| | | |
| --- | --- | --- |
| | Welcome to Muzza's world of Classic Suzuki Two Strokes! | |
| | "I love the smell of two-stroke in the morning" | |
| | | |
Various Roadbikes
--o--
These are some pics of my 76 GT500. All stock engine exept for the Jemco Swarbrick pipes and K&N filters.
James Shinault, Waterloo,South Carolina State,USA.
--o--
I write from France and I am a T500 fan. My name is Eric and I've rode my first T500 in 1975; it was a 1971-R model, and today I own the same and 1 1968 Cobra model. Regards from France, Eric.
(Eric has a nice T500R and a good basis for a Cobra restoration...note Ceriani forks and Grimeca 4LS front brake installed)
--o--
Daniel Nataf from FRANCE shared these pics of his modified 1972 T500J (4LS front drum has been added)
--o--
H2Rick's GT550 - Calgary Canada
(Very neat H2...the bike and the neighbourhood)
--0--
Couple of pics of my 1971 T250R I started to restore 12 months ago
Eddie Brackenridge from Lisburn Northern Ireland
(lovely bike, one of my favourites....beautiful job)
--o--
I BOUGHT THIS IN LATE 2005 FOR AROUND $600. IT HAD BEEN REALLY BADLY MESSED WITH, INCLUDING A GT380 FRONT END FITTED. IN THE BEGINNING I DID NOT ASPIRE TO A TOTAL RESTORATION, BUT AS TIME WENT BY IT KIND OF GOT OUT OF HAND. MORE THAN 2 YEARS LATER AND MAYBE $3,000 SPENT SO FAR, IT LOOKS LIKE THIS. ALMOST EVERYTHING IS EITHER N.O.S. OR REPAINTED / RECHROMED IF N.O.S. IS NOT AVAIABLE.
AT THIS POINT, THIS BIKE IS NOT QUITE FINISHED. I STILL HAVE A LATER MODEL FRONT END FITTED, WHICH MAKES IT A FEW INCHES HIGHER AT THE FRONT. I NOW GOT AN N.O.S. FRONT END FOR IT, GENUINE 1970, AND WILL FIT THAT SOON.
THE MOTOR IS NOT QUITE RIGHT YET EITHER, I AM STILL WORKING ON THAT, I SUSPECT IT IS CRANK SEALS. I HOPE TO GET EVERYTHING DONE FOR THIS SUMMER AND USE THIS AS MY DAILY SUMMER RIDE.
RODNEY
NEW YORK
--o--
Will Waltons 1975 T500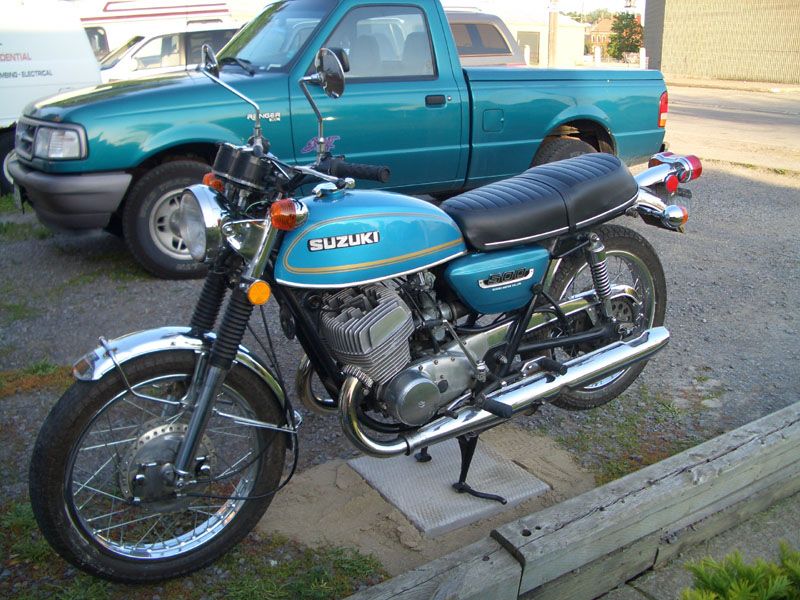 --0--
This is my 1st of my suzuki collection I have 3 t500's and 1 gt380
thanks
Jon Connolly Caribou , Maine (United States)
Very neat modified T500J
--o--
Jim Readman from West Lothian Scotland has sent in some pics of his GT500s.
Jim with Niall McKenzie
--0--
Mike Yeadon's GT380B
Couple of photos (me in Portsmouth, UK ~1983; and fully restored in Kent 2007) of my one previous owner 1977 GT380B.
I bought it in 1978 with 6000 miles and its now 43000 and going better than ever!
--o--
I came across your website and thought you might like to add my machines.
Suzuki T350J (Blue) 1973
Suzuki T350J (Orange) 1973
Both on the road - renovated 2005.
Regards
John Hawkins, East Midlands, UK
Roy Deeley lives in the West Midlands UK and is running a T500M
--o--
www.ozebook.com