I own two Suzuki GT series racers, a 185 and a 250. I also own two Yamaha R5's (71' and 72'), a 74' RD350, 74' rd200, and a
73' BMW 75/5



GT185 racer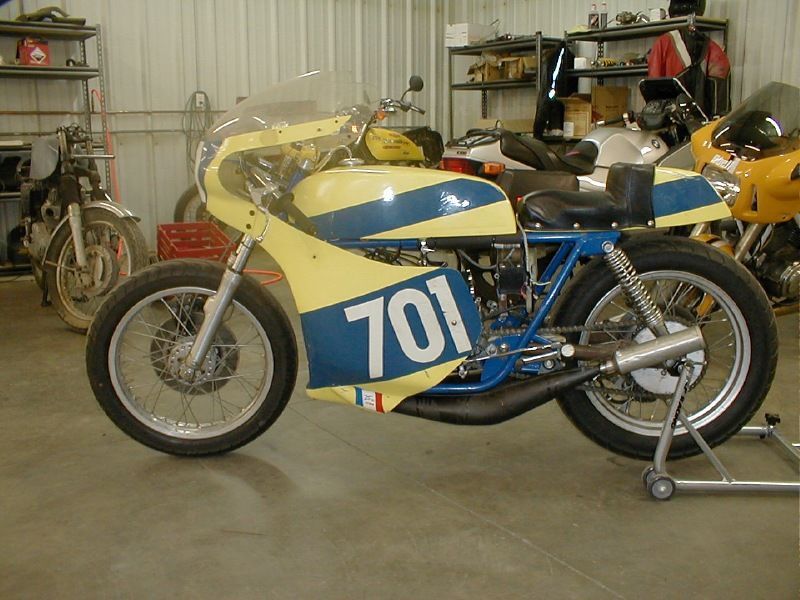 Here is a picture of my GT 250 race bike I just aquired. Evidentally it's got some history in that it was never used as a street bike. Bought new and converted to racer right away and raced in the AMA pro ranks in 75' I'm told. It's got lots of goodies including the weirdest gas tank I've ever seen. It's squishy soft! It's a Lipps Plastics brand.
Alloy wheels (2 sets) disc brakes front and back. Lengthened and braced swingarm . Red wing rear shocks
1/4 turn throttle 30mm mikuni's Porting Weird hydroform stamped chambers (anyone know what these are?)
The forks are off something else and perhaps the triple clamps as well, but I don't know what, or what springs are in them.

The first step is to tear the motor down and replace the crank seals if not a fresh top end. This bikes been raced for going on 30 years and no one can remember the last time it was done.