Getting into racing a Suzuki 500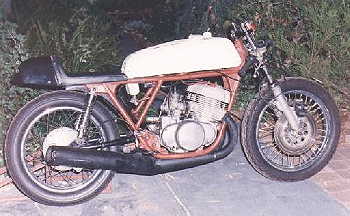 The start of something big
TITAN RACING - POST CLASSIC ON A BUDGET
The Suzuki 500 twin in its various guises as a Cobra, Titan or GT500 serves as a useful basis for the construction of a very competitive post classic road racing machine.
The classic and post-classic racing scene has developed a degree of popularity that is becoming the envy of mainstream motorcycle road racing. The number and variety of machines racing, the sounds and sights on and off the track, the friendly nature of the sport, the good turnout of spectators and the growing interest of the trade are all evidence of the health of this form of racing.
One of the many machines racing is the Suzuki 500 two- stroke twin, either in its production racing motorcycle variant, the TR500, or as is more often the case, in the form of a modified T500 Titan road bike. The Suzuki has demonstrated its competitiveness in post-classic racing and this series of articles sets out not only to explain the pitfalls and hazards of building a T500 post-classic racer; but also to provide details of the basic modifications required to make the machine perform reasonably well on the track and at little cost.
The author production racing in 1973
The advantages of the Suzuki for this purpose are numerous: but first the objective reasons,
a. the Suzuki 500 is still fairly readily available on the second-hand market. A word of warning though, there are many signs that this fortuitous situation is about to change and as we know many "common" machines have dis- appeared from the market-place without anyone noticing at the time. BEEZAs, Trumpys, Benellis, Bultacos, quite a few Duke singles and the pre-Commando Nortons were once, to a varying degree, very common; but honestly, did you really notice them becoming scarce and how quickly it occurred? If you did notice, like most of us you probably thought there were still a lot around in back sheds and that the wreckers would be full of them. Well not so, least not out my way! The 60's and 70's British bikes are only re-appearing now because of the burgeoning second-hand classic bike import market and then they are available only at a premium price.
A great way to start classic racing
While the loss of the European bikes was gradually taking place the less noticable disappearance of early Japanese machines was already beginning to occur. A consumer- oriented market nurtured on new model releases each year and a horse-power war on the roads was quickly adapting to the disposable motorcycle life-style. A healthy dose of late 60's and 70's affluence helped as well while we should not forget the influx of baby-boomers looking for thrills and "hip" transport. Now we look, largely in vain, for late 60's Bridgestone twins, Kawasaki Samurai and Avenger twins, Suzuki T20, Hustler and Rebel twins. All had the advantage of being light, were of simple construction, had quite adequate brakes and were just screaming for the application of a bit of porting work and chambers. Even in their street legal form they set new standards for performance and reliability.
These and many other early models were written off as being out of fashion as newer, more complex and faster machines were churned out by the Japanese big four. The factories ensured their obselesence by often stopping production of spare parts and exacerbating the problem with short model runs and lack of inter-changability of parts. Four strokes are not safe either, eligible CB750's in good condition are becoming harder to find as are CB450's, CB77's, CB72's etc. There are still some bargains around though if you are willing to look.
Secondhand Suzuki 500's are available in very, very good low milage condition for around A$2,000, although some enterprising people are asking up to A$2,500. Good condition higher mileage T500's can be found for A$1,000 to A$1,200, untidy road licensed ones can be had for A$500 to A$600, dogs for A$400 and basket-cases from A$150 to A$300. One of the advantages of the Suzuki 500 being around for so long is that in my experience nearly everyone selling a T500 has a spare bike or engine to throw in as well.
b. the Suzuki 500 had a long, by Japanese standards, model run. The Suzuki was first produced in 1968 as the Cobra twin, in 1969 it had a carburettor change and a longer swingarm fitted, in 1970 it became the Titan with a change of tank, side-covers, instuments and some minor re-modelling, in 1974 it underwent some de-tuning with some changes to the porting and carburation and finally it came to rest in 1977 as the GT500 having gained in 1975, electronic ignition (PEI), the GT750 triple's tank and front forks, new instruments and seat and a single disk up front.
The advantage of this long model run and the fact that only minor changes were ever made to the motor is that all models can provide eligible engines for post-classic racing. The interchangability of parts across the model range is also a great bonus.
c. the Suzuki 500 is blessed with a fairly straight- forward engine design which responds very well to the gentle application of a port file and a set of expansion chambers. The motor is also very robust, with an almost un-burstable crank and a strong gearbox (more on the gearbox later). As a result of this built-in strength the motor is rather heavy (56 kgs) and consequently can give my back curry when-ever I have to lift it onto the bench or into the car boot. Consumable parts are still readily available through Suzuki dealers. On rare occasions however a wait is necessary if the item needs to be sourced from Japan.
d. the Suzuki 500 is a stable road bike. It has a long, long, long wheelbase and tracks very well at most sane speeds. With the standard frame the T500 is a predictable and reasonably competitive road racer, particularly on fast sweepers and in straight lines. It doesn't like quick changes of direction; a good witness to that being how the dis-respectful among the historic racing crowd catch me through s-bends on the track! Nevertheless a few basic changes can be cheaply made to redress some of the drawbacks of the long open frame. Simply put, the frame is solid and readily usable. It responds well to mild doses of frame bracing and the odd bit of cutting and shutting. It is heavy, but then no-one said Suzuki 500's were lightweights!
Jim Howe from Pal and Panther Cycles and the author at the 1974 3 Hour Production Race at Wanneroo. It rained for the last 2 hours!
e. the Suzuki 500 is a time-proven motor which has a genuine race history and consequently there is a fund of tuning and race oriented information available to the enthusiast. In addition to the factory race bulletins and after-market service manuals there are several records of Suzuki "hop-up" hints from U.S. periodicals of the time and similar "hot-up" reports from British magazines where the Suzuki 500 was somewhat of a favourite. Due to the long model run of the Suzuki 500 and its popularity on the road-race track (not to forget its bastardisation on the speedway circuit in 500 speedcars) there is also no shortage of tuning and hotting up experience available to the budding post-classic road racer. Some of the old players are still in business and for example, John Woodley, in Geelong, has a particularly soft spot for the 500 Suzuki and a wealth of expertise and racing equipment. Pal and Panther Cycles in Perth have been Titan fansfor the past 20 years and are both keen supporters of post-classic racing and capable of servicing and race-tuning the big twins.
As genuine production TR500 road-race machines were based on the original Suzuki 500 road bike the factory racing engine parts and frames are readily adaptable to the needs of the post-classic racing enthusiast. The only catch is finding original racing parts after the speedway boys have finished with them. The useful bits are factory heads, air-cooled barrels, magenetos, six speed gear- boxes, straight cut primary gears and light-weight cranks. Never fear though, for with some ingenuity and tuning nous the road motors can be made to do much the same as the race engines, after all that's all the factory did; take one T500 motor, add a pinch of horsepower, mix in some snazzy looks and goforit! Voila, one race bike!
This could be you!
There are some other more subjective reasons for racing a Suzuki 500. These include the fact that the Suzuki 500, despite being a two-stroke, was a firm favourite among many motorcyclists due to its traditional appearance, its low revving torquey power delivery, stable road-holding and its proven touring ability. As a big twin (for the time) it didn't make the screaming howl typical of two- strokes of the time; but had a less offensive rumbling exhaust accompanied by a deep induction note. Admittedly when the motor was worn and hot one could be forgiven for thinking that a few nuts and bolts had found their way into the combustion chamber, particulary on the overrun.
Getting into racing. Once you have bought your bike, before modifying it for racing, you should approach your local Historic Competition Motorcycle Club or Post-classic Racing Club and get to know a few people who share your interest. If you ride a Suzuki it may be hard to find anyone to talk to at first; but undoubtably, the scruffy looking chap up the back whose job it is to clean the Club toilet block will be a Japanese bike rider. Whilst at first he will cringe in fear from you (due to his expecting you to hit and spit upon him) once he knows that you want to talk to him about Japanese bikes and in particular, racing one, he will be your friend for life. Other handy allies can be the lonely souls who ride two-strokes be they Ariel Leader, CZ, Bantamn, Yamaha, Ossa or even Bultaco owners. Always pretend that you know nothing about racing and anything mechanical (something that comes naturally to me) and be prepared to discard most of the advice you receive as being deliberately mis-leading or an attempt to "psych you" out of contention. Gain their trust with generous profferings of port (any brand will do), praise their choice of machinery and compliment profusely their on-track riding skills. Even if you have never heard of them, tell them how you still remember how they made that brilliant passing move, on the Lambretta, on Geoff Duke back in 1956 at the Mooliabeenie Airstrip Grand Prix or there-abouts; drop a few names and mention how inspired you were when you saw their picture in this magazine only last month. Even if they know you're lying, most bike- racers will be too conceited to tell you.
Barry Sheene on his ex-works 125 - he soon moved up to a 500 twin
Having gained a modicum of respect through this means and having proved that you can exaggerate with the best of them you will probably be asked to prove your committment to the sport by putting your money where your mouth is! If you are like me and carry your wallet in your back pocket comfortably nestling against your right cheek, then this is a far better proposition than putting your mouth where your money is!
If, so far, you have escaped having to buy a lottery ticket for $500 of woman's underwear sourced from the Club President's Lingerie Shop or a raffle ticket for a Club T-shirt two sizes too small, then do not despair for the Club Treasurer has the happy knack of never forgetting a face and will pin you down for ever more.
First expense for most is the Club fees, these are generally modest (as the best is yet to come) and may include a joining fee to cover the cost of writing your name in the address book. Club fees normally are no more than A$40 for the year and this entitles you to call yourself a Clubman in public and to a Club newsletter every month. As a Clubman you are entitled to apply for a competition license. A concessional license allows you to enter Club events and tuning days. The license fee includes compulsory accident insurance. If you wish to ride at Open events with other Clubs then you will need a full Competition license. Your application must be accompanied by a significant donation, a pair of passport photos and have the imprimateur of the Club Secretary. Normally a concessional or a full license will not be approved by the Club Secretary until you have proven on at least two tuning days that you have a degree of riding skill, understand the flags and have a modicum of on- track courtesy.
If you haven't already done so you will need to buy an ACCA approved helmet ($450 should do, gloves and boots and a set of approved racing leathers. Leathers can be either one piece or two-piece; but if they are two piece they must zip together and zip close at the wrist and ankle plus have a velcro fastener at the neck. Fancy leathers with suitable padding and elbow and knee protection can be bought new for between $800 to $1000+; however secondhand leathers with the odd battle scar can be found in the classifieds for $200 to $600 depending on condition and the amount of flashy leatherwork on them.
I think I've run out of time and I still haven't told you what to do with that old Titan you've got rusting in the shed! Well get out the General Competition Rules and and study them and next time I'll tell you what chopping and changing you need to do. Until the next time, get the bike out, pull the engine out of the frame and give it all a good clean. The frame could do with a bit of painting as well while your at it.
Copyright reserved: M Barnard 1997
To Suzuki 500 Page 5! ..........Race preparation!
Back to race preparation index
---