Barton Suzuki 500cc triple on GT380 base with spondon frame also known as Sparton
Barton 750 cc square four two stroke, now owned by Erik Buell.
Here is a picture of a very rare racebike the Barton square four it is a 750 cc disc-valve water-cooled two-stroke. Barton used the design of the Suzuki RG500 engine but made it better and more reliable. Suzuki used Bartons design in later RG500 models. Two of these bikes were made by Barton, they wanted to race the bikes in the F750 class but that never took place. The bikes were used in the 1980 film Silver Dream Racer (see http://www.imdb.com/title/tt0081517/). They were ridden by Roger Marshall. After the film they were bought by Erik Buell, who still is the current owner. He was planning to race them in the AMA F1 class just before they banned them for this class.
The Buell RW750 story
http://www.davegess.com/buelhist/rw750/index.htm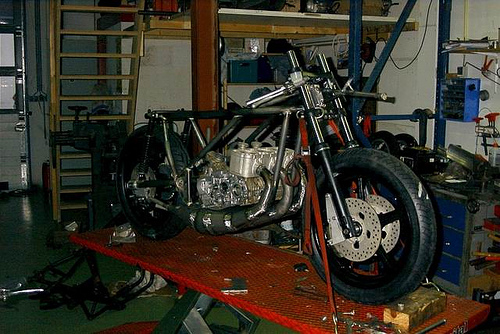 Seeley Barton Suzuki Two stroke triple on GT380 base
One of the founders (Graham Dyson) of Barton Motors still runs a business today, they make very trick gearboxes for Suzuki RG500 and TR500 see: http://www.novaracing.co.uk/
Barton also made an engine which was based on the Suzuki GT380, they made watercooled barrels and heads for this bike. Barry Sheene broke the lap record at Brands Hatch. In a spondon frame it was known as Sparton, they made 26 bikes and 8 spare engines.
See also:
http://www.ozebook.com/compendium/suzipics/barton.html
and
http://www.ozebook.com/compendium/suzi/barton.htm
and
http://www.ozebook.com/compendium/suzipics/sparton.html
Bas's pics copyright Bas Völlink 2007
Muzza
www.ozebook.com